| | |
| --- | --- |
| | |
| | VENICE TOURS |
| | |
| | Venice City Tours |
| | |
| | Venice Day Trips |
| | |
| | Venice from Cruise |
| | |
| | Venice Transfers Page |
| | |
| | |
Venice captured the impression of a magical floating city by setting wood pilings on the 118 submerged islands. 400 foot bridges and 170 boat canals connect the city to make it easily accessible to the local populace.

Venice Cruise Terminal is located in Venice on the edge of the historic center easily connected by public vaporetto water trams and private water taxis to San Marco Square.

Venice can be compared to a one big adventure. Once you are caught in the winding and seemingly endless streets and bridges of confusion, you would have no other choice but to keep on walking- which is actually a good thing! There's no better way to explore Venice than getting lost and be surprised in what it has to offer at your every turn.

The tours we suggest try to put some order to what may look at first as a chaotic visit. In company of your private guide will not miss neither the obvious nor the hidden treasures of the city as you explore it both on foot and from the water.
3-Hour Walking Tour

Top Venice sights in a 3 hour walk with a local guide

more info >>

€uro 105.00
"Venice was on top of list of cities we wanted to visit with a local guide during our cruise " Federica Browning, Houston, USA

per person
in a private party of four
free for children under 6

Venice Top Sites and Canale Grande
3-Hour Walking Tour including 1 Hour Private Venice Cruise

Top Venice sites in a 2 hour walk and 1 hour cruise by watertaxi with a local guide

more info >>

€uro 155.00
"The cruise by private watertaxi along Grand Canal was the most beautiful experice of our Italian trip." Mary Challis. Leeds, UK

per person
in a private party of four
free for children under 6

5-Hour Walking Tour

Most detailed visit of Venice in company of the local guide.

more info >>

€uro 130.00
" Venice deserves an in depth visit. We need to retur to see more !" Margaret Brown London, UK

per person
in a private party of four
free for children under 6


Special Offers and Discounts
Venice Slide Show:
12 Best Photos to Inspire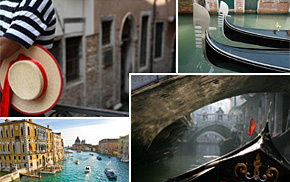 25 Best Things to See in Venice
This Week Italy Travel Headlines